ProPulse Receives Manufacturing Automation Grant
State funding allows local thermoplastic hose manufacturer to increase automation
Amid an ongoing workforce shortage, an array of local manufacturers will receive a boost from $3.3 million in state funding that encourages expanded automation.
The 12 area companies are among more than 80 businesses receiving grants through Iowa's Manufacturing 4.0 program. The grants, available through Iowa Economic Development Authority, are designed to help address workforce issues and fund projects that encompass the adoption and integration of smart technologies.
Iowa manufacturers with 76 to 250 employees could apply for up to a $500,000 grant, with a minimum 25% match required.
One of those local businesses is ProPulse, a Schieffer company, based in Peosta. The hose assembly manufacturer plans to use its $453,192 grant to expand automation in its winding processes and add pick-and-place robots, said President and CEO Jeff Theis.
"We already have some semi-automatic assembly and winding systems, so we'll continue to add to those and refine them for a greater degree of output and accuracy," Theis said.
The local company leaders reached by the Telegraph Herald emphasized that increased automation does not coincide with planned workforce cuts. Many continue to hire employees, and Theis said new technology can create new jobs for workers to maintain equipment.
"Certainly, nobody wants to eliminate the human element," he said. "We're just trying to find ways to make the human component of manufacturing easier, better and more accurate."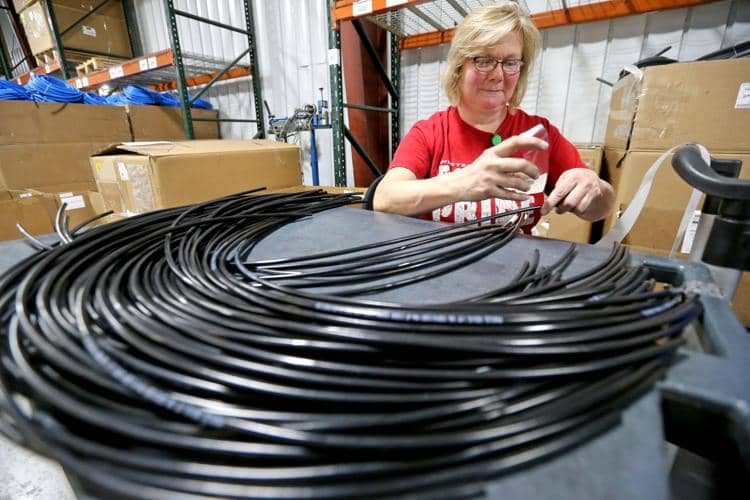 JESSICA REILLY | Telegraph Herald Photo
Above: Linda Besler applies a label on a hydraulic hose at ProPulse, A Schieffer Company.
Long History of

Hose Manufacturing
At ProPulse, we have over two decades of experience innovating, engineering, and manufacturing hydraulic & high-pressure cleaning hoes for OEMs and distributors worldwide. This wealth of experience is reflected in our commitment to superior quality, reputation for technical excellence, as well as our superior integrity and business ethics. We are not only a hose supplier, but also a nimble and highly-experienced OEM hydraulic machinery hose manufacturer.
Our thermoplastic hose is 100% manufactured in Peosta, Iowa. Our manufacturing capabilities have a reputation for unsurpassed turn-around time, innovative engineering design and development, and prototype hose assemblies to help get projects off the ground quickly.
Manufacturing Automation

Plans
This multi-year project to automate manual processes in our plant will increase the level of training from very manual processes to more technical methods. Due to the COVID-19 pandemic, it has become increasingly difficult to recruit and retain personnel. As an essential factory, we had to continue production to keep industries we serve going. More automation in our facilities will reduce the manual operations, while developing our employees into higher technical positions. This automation project will also increase opportunities for advancement for all of our employees.
Innovating, engineering, and manufacturing hydraulic & high-pressure cleaning hose for OEMs and distributors worldwide.
9866 Kapp Ct.
Peosta, IA 52068
+1 (563) 583-4758
+1 (877) 384-4673