Solutions for oems & Hose Distributors
As a hose manufacturer, our output exceeds two million hose assemblies per year—half of which are engineered and manufactured as custom solutions. From flexible pressure washer hose and high-pressure cleaning hoses, to industrial hydraulic hose and just about any SAE hose assembly in-between, we can deliver the high-pressure hose assembly you need to keep the fluid flowing. 
ISO 9001:2015 Certified & Full PPAP Capabilities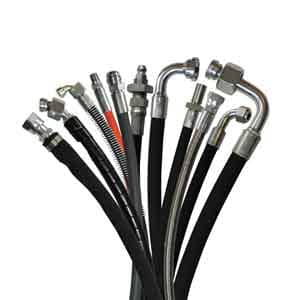 Hydraulic Hose Assemblies
We make hydraulic hose assemblies for the agriculture, construction and forestry, material handling, utility, recreational vehicle, and transportation industries. From SAE rubber hydraulic hose to custom thermoplastic hydraulic hose, we have the knowledge and experience to get you the hose you require in the timeframe you need. Our hydraulic hose capabilities spans the standard SAE hydraulic hose including: SAE 100R7, SAE 100R8, SAE 100R16, SAE 100R17, and more.
With a continuous focus on product development, we have obtained multiple patents for innovative high-pressure hose assemblies. Our patented UberFlex hose is preferred by pressure washer manufacturers on their middle and high-end commercial equipment. ProPulse's Arm-A-Flex heavy duty cleaning hose features an ultra-high molecular weight jacket designed to extend hose cover life by up to ten times.
The Cleanstream performance cleaning hose is ideal for cold water paint and flat surface preparation, commercial car cleaning, agricultural cleaning and a whole lot more. From pressure washing and car washing, to carpet cleaning and sewer jet applications, we provide an array of quality high-pressure cleaning hoses.
ProPulse Now! Hose Assemblies
Whether you need high-pressure hose for commercial or consumer pressure washer cleaning, car washing, carpet cleaning or sewer jetting and drain cleaning, the ProPulse Now! program stocks over 150 commonly used hose assemblies and provides access to industry exclusive patent and patent pending hose products. You can expect shipment within 24 hours (often same day) on inventory in–stock and enjoy access to discounts based on annual sales and volume purchases. The industry standard high-pressure cleaning products you want, with the quick turnaround time you need. That's ProPulse Now!